Qualifications of Mentees
Mentees will need to be proactive, self-starters who are receptive to feedback and guidance to help them achieve their professional goals. Mentees should have a clear idea of what they want to accomplish through mentorship before requesting to work with a mentor.

Mentees can leverage the advice of a mentor who has relevant experience and will offer an insider's point of view on career management, helping guide the mentee to achieve career goals and more. In exchange for the guidance received, mentees are expected to proactively facilitate the partnership by scheduling meetings, completing action items, certain administrative tasks, etc.

Mentees must be current ISACA members. New members will gain access within approximately 24 hours.
Responsibilities of Mentees
Have an understanding of what they want to accomplish through mentorship before connecting with a mentor. This enables the mentee to choose the right kind of mentor to support their career development. Mentees can download this goal setting worksheet to begin brainstorming their mentorship goal. 
Initiate matches by sending a connection request to a mentor who has been carefully considered. Mentees should look for a mentor who has relevant experience that aligns with their own goals and career. Mentees can only send one connection request at a time.
Proactively facilitate mentorship partnerships by remaining in regular communication, scheduling meetings, completing administrative tasks, and following up on all action items and to-dos.
Put the time with your mentor to its best use. Come to meetings with planned topics for discussion. Refrain from asking for advice about everything; have a purpose for each request.
Maintain open, productive lines of communication by proactively sharing successes, obstacles, challenges, and updates with mentors.
Respond in a timely manner to your mentor's feedback and emails, generally within two days of receipt. Communicate with your mentor if you will be unavailable for a period of time.
Set aside time for the mentorship work and keep all scheduled appointments with your mentor. Refrain from committing to obligations that are not feasible.
Actively communicate when a change in schedule or priority occurs and will impact the mentorship or deadlines. Avoid cancelling meetings at the last minute.
Balance a personal but professional relationship with your mentor. A mentor will be a trusted source of guidance for career topics and professional development. It is not appropriate for mentors and mentees to engage in any business transactions.
Never blame or criticize a mentor if something does not go as planned or their advice does not work out. Do not expect mentors to have all the answers.
Read all program training material suggested via email and in the mentorship connection plan.
Find an ISACA Mentor Today!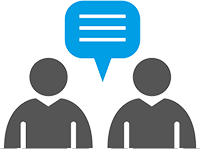 Discover the perfect resource for your career growth here.


frequently asked questions
How do I choose a mentor? Before anything else, identify what you would like to accomplish through mentorship so you know what skills and experience you are looking for in a mentor. Do you want to build leadership skills in areas like communication or interpersonal relationships? Is your goal more tactical, like asking for a promotion or securing an internship? Complete the program goal setting worksheet before beginning your mentor search. Since this program facilitates remote partnerships, you should also consider your location and time zone preferences.
How are matches made? Complete your profile to inform others in the program about what you are looking to accomplish through mentorship. The system will suggest pairings with participants who have complementary qualities. The system also has a directory with advanced search options to find people with specific attributes.

Mentees are responsible for initiating matches by sending a connection request to a carefully selected mentor. Be sure to personalize your connection request and include important details about yourself and your mentorship goal. Explain why you think they are the best mentor to support you.
What if my connection request is declined? That is okay, and something to be expected! Mentorship is a dedication and commitment, and it is important to match with the right partner. Do not take it personally if a mentor does not think they are suited to help you accomplish your goals. Likewise, a connection request may close automatically if the mentor does not respond in time. Do not be discouraged. Continue your search! It can sometimes take a few tries to find the right professional partner.
What is the time commitment? ISACA's mentorship connection plan is designed to be six months long, and mentees are asked to commit initially to this timeframe. However, this timeline is flexible and up to the discretion of the mentor and mentee, if the goal is completed early or more time is needed. 

Mentees should be committed to spending a few hours per month meeting with their mentor and making progress toward their goal between meetings. Mentees are also expected to facilitate the partnership by scheduling meetings, taking minutes, etc., in exchange for the guidance provided by the mentor.
What should I do if my mentorship is not going well? Not every match will be the right fit, and a mentorship is an investment of your time and energy. If things are not working out or you discover your goals do not align with your mentor's experience, you are encouraged to address this early on. It may be likely your mentor feels the same, and you can feel comfortable initiating a respectful and professional conversation about offboarding early. It is important to ISACA to empower all participants to have a worthwhile experience, and sometimes that means concluding one match and finding a more effective connection.
Can I pause my involvement in the program? Yes, unmatched mentees who are not actively looking for a mentor will be deactivated from the program. Mentees are welcome to join again at any time, simply by logging in to the mentorship platform. All profile and historic activity will be maintained. 
How many mentors can I match with? The connection plan is designed for mentees to focus on one match at a time, and work toward accomplishing one or two professional goals together. As soon as a match is over, mentees can issue more connection requests to match with another partner. 
Can I be a mentor and a mentee? Yes! Participants can be in two matches at once if they hold dual roles as a mentor and mentee. 
How can I identify as a One In Tech scholarship recipients? Recipients of an academic scholarship through One In Tech, an ISACA foundation, should add this designation to the 'About Me' section of their profile.